New Mexico Department of Game and Fish
Public contact, Information Center: (888) 248-6866
Media contact, Tristanna Bickford: (505) 476-8027
tristanna.bickford@state.nm.us
FOR IMMEDIATE RELEASE, JUNE 20, 2019:
SANTA FE –Three New Mexico Department of Game and Fish conservation officers graduated from the New Mexico Law Enforcement Academy in Farmington Friday, June 14.
The department's graduates of the 20-week law enforcement training academy are:
Kayla Brauer
Travis Bessett
Montana Tidwell
Notably, Brauer earned the title of class valedictorian and the exemplary performance award in a class of 30.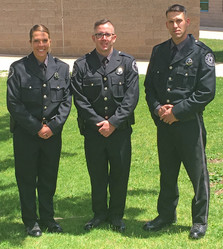 In addition to attending the law enforcement academy, conservation officers undergo four weeks of departmental training in wildlife laws and department policies and procedures. They also undergo a year of on-the-job training under the supervision of a field training officer before being assigned to a district.
For more information about a career as a conservation officer with the Department of Game and Fish please visit the department website.
###