New Mexico Department of Game and Fish
Public contact, Information Center: (888) 248-6866
Media contact, Tristanna Bickford: (505) 476-8027
tristanna.bickford@state.nm.us
FOR IMMEDIATE RELEASE, FEB 5, 2020:
Bill Evans Lake WMA temporary road closure
SANTA FE – The New Mexico Department of Game and Fish will be conducting a restoration project to improve fish habitat at Bill Evans Lake Wildlife Management Area (WMA) near Silver City.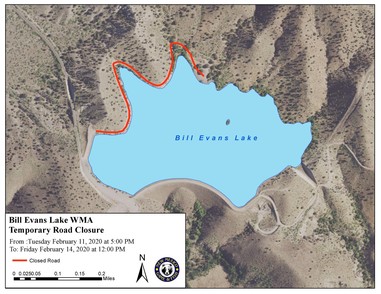 To ensure public safety during construction the northwest access road will be closed starting Tuesday, Feb. 11 at 5:00 p.m. and will reopen Friday, Feb. 14 at noon.
The southern access road, including the boat ramp, will remain open throughout the project.
The project will improve habitat for several sport fish species such as largemouth bass, channel catfish, rainbow trout and bluegill. It will focus on increasing spawning areas for adult fish and hiding areas for juvenile fish, ultimately improving angling at Bill Evans Lake WMA.
Visit the Department's website to learn more about State Game Commission Lands including Wildlife Management Areas.
###