New Mexico Department of Game and Fish
Public contact, Information Center: (888) 248-6866
Media contact: Dan Williams: (505) 476-8004
dan.williams@state.nm.us
FOR IMMEDIATE RELEASE, AUGUST 11, 2017:
Department shines at Santa Ana Pueblo public safety event
SANTA FE – The Department of Game and Fish won first place in the People's Choice category Aug. 5 at the first Public Safety Day at Santa Ana Pueblo.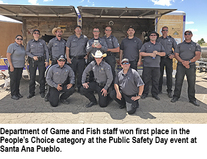 Over 20 law enforcement agencies participated in the event, showcasing their specialties. The department was praised for its interesting, informative and attractive representation of the agency.
"It was a great day to share with the people of New Mexico what the Department of Game and Fish law enforcement and the variety of resources we offer to the public," said Capt. Tim Cimbal. "It was an honor for our agency to be chosen by the people for the People's Choice award."
The Department of Game and Fish Field Operations Division is responsible for patrolling by foot, boat, snowmobile, off-highway vehicle, horseback, pickup trucks and aircraft. The department also is responsible for off-highway vehicle training and providing the National Archery in the Schools programs, which were also showcased at the event.
For more information about Department of Game and Fish programs, please visit www.wildlife.state.nm.us.
###