Trout and Salmon Regulations
Click the tab headings below to learn more about regular and winter trout and kokanee salmon fishing here in New Mexico.
Regular & Winter Trout and Kokanee Salmon
In New Mexico coldwater species include trout and salmon. Catchable-size trout that have been reared at hatcheries are stocked in more heavily fished waters. Smaller trout and salmon are stocked where waters can better support their growth. Some waters suit native Rio Grande cutthroat populations, while other waters are better for naturally reproducing non-native brown trout, and still others that may be too warm during summer are cool enough in winter to be stocked with hatchery-raised rainbow trout.
To fish in New Mexico, all persons 12 years and older must possess a valid New Mexico Fishing License or Game Hunting & Fishing License. For resident anglers 70 years and older free Fishing Licenses are available online, at NMDGF offices or license vendors.
In addition to a valid license, a Habitat Management & Access Validation is required. This validation is not required for anglers 17 years or younger and residents 70 years or older or 100%-disabled veteran cardholders. Second Rod Validations are not required for residents 70 years and older, and 100%-disabled veteran cardholders. For BLM or U.S. Forest Service lands a Habitat Stamp is required.
Trotlines
are not permitted
in trout waters—with the following exceptions: Abiquiu Lake, Rio Chama (below the northern boundary of Christ in the Desert Monastery), Gila River (downstream from its confluence with its East Fork), Navajo Lake and the Rio Grande (downstream from its confluence with the Rio Chama.
Bag Limits for Regular and Winter Trout & Kokanee Salmon
Brown trout, brook trout, rainbow trout or kokanee salmon
– 5 per day – 10 in possession
Gila trout or kokanee salmon
• Bag limit of 5 fish is considered any combination of trout and/or salmon with the exception that no more than 2 lake trout and/or 2 cutthroat trout may be included in the limit.
• Trout bag limit is 4 trout at the Tingley Beach Central Pond and the Children's Pond.
• Trout bag is 3 trout at Laguna del Campo, Red River Hatchery Pond, Red River City Ponds, Goose Lake and Rio Grande (Elephant Butte to Caballo Lake).
• Possession of kokanee salmon not permitted at Heron Lake and Willow Creek during the closed season, October 1–November 8.
Lake trout – 2 per day – 4 in possession
Cutthroat trout – 2 per day – 2 in possession
• Any trout with red slash marks below the jaw is considered a cutthroat.
• Bag limits may be different for Special Trout Waters. See pages 16–19.
Use of baitfish in any trout waters is not permitted—with the following exceptions: Abiquiu Reservoir, Clayton Lake, Jackson Lake, Maxwell Lake 13, Navajo Lake, Rio Grande (downstream of the Taos Junction Bridge) and the Animas River. Dead baitfish (non-protected species) may be used in Eagle Nest Lake and Heron Lake. No live baitfish may be in possession while fishing Eagle Nest Lake or Heron Lake.
Goldfish as bait are not permitted at any time in any waters of New Mexico.

Release of any baitfish is illegal and not permitted in fishing waters that contain game fish.
Free Gila Trout Fishing Permit
A Gila Trout Fishing Permit is required to fish Black Canyon, Gilita Creek, Mineral Creek, Mogollon Creek, Sapillo Creek, West Fork Gila River (headwaters to East Fork confluence), Whitewater Creek, and Willow Creek (including tributaries). This permit is free and available online: www.wildlife.state.nm.us, by telephone: 1-888-248-6866 and at all license vendors and NMDGF offices.
When water temperatures are cool, between November 1–March 31, Winter Trout Waters are stocked with hatchery-reared rainbow trout.
Streams and Rivers: Black River (1 mile upstream to 1 mile downstream of Higby Hole; Pecos River (from the southeast boundary of Villanueva State Park downstream to Santa Rosa Lake) Rio Grande (Elephant Butte Reservoir to Caballo Lake).
Lakes: Alumni Pond, Bataan, Bear Canyon, Bill Evans, Bosque Redondo, Bottomless Lakes State Park, Carlsbad Municipal, Carrizozo, Chaparral, Corona, Dennis Chavez, Escondida, Eunice, Greene Acres, Grants Riverwalk Pond, Green Meadow, Harry McAdams Ponds, Jal, Lake Van, Liam Knight Pond, Ned Houk, Oasis State Park, Perch Lake, Rancho Grande Ponds, Sumner Lake Stilling Basin, Roswell Kid's Pond, Tingley Beach, Young Pond.
Drains: Albuquerque, Belen Riverside, Bernalillo, Corrales and Peralta
Special Trout Waters (STW) are managed to enhance the unique angling opportunities available in
New Mexico. Regulations vary for STWs — some are managed to produce trophy-size trout, some to improve conservation of native trout, and others to enhance the overall trout population structure and density. Regulations are tailored to each water and may include reduced bag limits, catch-and-release for native
Gila trout and Rio Grande cutthroat trout or increased harvest for nonnative fish species. Many STWs require artificial flies and lures with a single, barbless hook. Anglers must never disturb rocks, plants, or sediment to attract fish. By following these regulations anglers help to conserve healthy fisheries in New Mexico and promote high-quality fishing experiences for everyone.
New Designations of Special Trout Waters
Keeping
New Mexico TrueTM
, the New Mexico Department of Game and Fish has established three designations for Special Trout Waters: Red Chile Water, Green Chile Water and Xmas Chile Water. Each designation is easy to remember, and signs with new symbols are posted at STWs with bag limits and
tackle restrictions provided.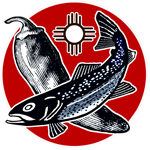 Red Chile Water
Catch-and-release with tackle restrictions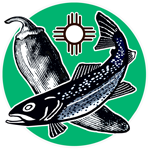 Green Chile Water
Two (2) trout daily bag limit with tackle restrictions
Xmas Chile Water
Two (2) trout daily bag limit with any legal tackle
Native Trout Conservation Waters
Several new Special Trout Waters have been established to help protect and conserve Gila trout and Rio Grande cutthroat trout. Nonnative trout species can out compete or hybridize with native trout species. In order to protect native trout species, unlimited bag limits in some waters have been established for nonnative trout species (rainbow, brown, and brook trout). These waters are listed on page 18 under Red Chile (Native Trout Conservation).
General Bag and Possession Limit Restrictions
All fishing in STWs must stop when the daily bag limit for that water has been taken. Anglers may not continue to fish another STW with a similar or lower bag limit, but may continue if another STW has a higher bag limit or if fishing in Regular Trout Waters. Anglers must count those STW fish toward their overall daily bag limit. If fishing STWs where the bag limit is zero, anglers must not possess any trout.
Many New Mexico game fish have restricted bag and/or size limits which require immediate live release back to the water where taken. To ensure healthy release, follow these suggestions.
1. Land the fish quickly and don't play it to exhaustion.
2. Use a landing net whenever possible.
3. Keep the fish in the water.
4. Do not squeeze or grab any part of the fish. Wet your hands first if you must handle the fish. 5. Gently remove the hook (barbless hooks are easier).
6. If the hook is swallowed deeply, cut the leader. A fish's body fluids will dissolve the hook in a matter of days.
7. Let a tired fish recover. Hold it by the tail in the water with one hand and gently support it from below and just behind the head until it swims away.
8. Never toss or throw a fish back into the water.
Special Kokanee Salmon Snagging Season
Kokanee are land-locked sockeye salmon. Although not native to the Southwest, kokanee thrive in some of New Mexico's deeper and colder plankton-producing lakes. In late fall, large schools of four-year-old kokanee gather to spawn and die.
A popular method for catching kokanee is snagging, the intentional taking of fish by hooking the body rather than the mouth. Kokanee are the only fish that may be legally snagged, and only during Special Kokanee Snagging Season. If another species is caught by snagging, it must be immediately returned to the water.
Each autumn NMDGF collects millions of kokanee eggs and milt to fertilize eggs and hatch fry. The young fry are used to stock Heron Lake, Navajo Lake, Abiquiu Lake, El Vado Lake and Eagle Nest Lake. The success of these collection operations is essential to maintain vibrant and healthy fisheries for anglers to enjoy. As a result, Heron Lake, Willow Creek and designated no-wake areas at Navajo Lake are closed October 1–November 8, and no kokanee salmon may be in possession while fishing during these closures at Heron Lake and Willow Creek.
Snagging Season Dates by Location
October 1–December 31: Open at Abiquiu Lake, Rio Chama (El Vado Lake to west boundary of Rio Chama Wildlife and Fishing Area), Navajo Lake (excluding bouyed no-wake areas and shoreline within the no-wake areas at the Pine River Boat Ramp and Simms Boat Ramp), Pine River, El Vado Lake and Eagle Nest Lake.
October 1–November 8: Closed at Heron Lake, Willow Creek and Navajo Lake (bouyed no-wake areas).
November 9–December 31: Open at Heron Lake, Willow Creek and Navajo Lake.
Bag Limit (duing Special Kokanee Salmon Snagging Season)
Kokanee salmon – 12 per day – 24 in possession