New Mexico Department of Game and Fish
Public contact, Information Center: (888) 248-6866
Media contact: Karl Moffatt: (505) 476-8007
karl.moffatt@state.nm.us
FOR IMMEDIATE RELEASE, May 9, 2016:
Game and Fish archery coordinator to be honored
SANTA FE
– When more than 800 people visit a city, local businesses benefit.
Brian Guzman, archery coordinator for the New Mexico Department of Game and Fish, is being honored as a "Meeting Hero" for his work in organizing the March National Archery in Schools Program (NASP) New Mexico State Championship Tournament at the Albuquerque Convention and Visitors Bureau (ACVB) in downtown Albuquerque.
Guzman is to be recognized at ACVB's 2016 annual meeting at 9 a.m., May 12. The breakfast presentation will be at the Albuquerque Convention Center, 401 Second St. NW, in Albuquerque.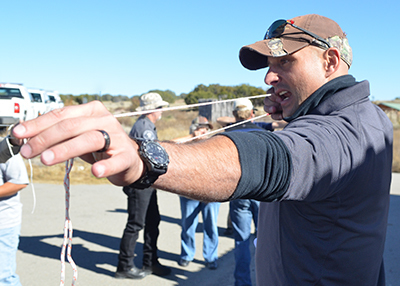 Guzman, with support from department staff and volunteers, coordinated the March archery tournament, which is among the largest in the West. The event attracted over 800 participants and coaches, family and friends, and contributed greatly to local businesses.
The cost to attend the meeting is $35 per person and includes breakfast, company board elections, presentations and the awards ceremony. Those interested can register by email at turpin@visitabq.org or by telephone at (505) 222-4338.
For more information about the NASP program, please contact Guzman at (505) 231-4375 or Brian.Guzman@state.nm.us. Also visit www.wildlife.state.nm.us.
###