At its May 22, 2018 meeting the New Mexico State Game Commission voted to eliminate the A-PLUS rule and make important changes to the pronghorn rule. These changes include allowing the sale of private land pronghorn hunting licenses over-the-counter for private deeded land beginning with the 2019-2020 license year. This program will be run similar to how private land deer licenses are issued and sold.
After April 1, 2019 hunters will purchase their private land pronghorn licenses over-the-counter from a Game and Fish office or a license vendor.
Public hunts will continue to be administered through the public land draw process.
For more information on what these changes mean to both landowners and hunters,
please see the Landowners and Hunters pages.
In 1820 Major Stephen Harriman Long was appointed to lead an expedition through the American West, exploring areas acquired in the Louisiana Purchase. One observation that came from this expedition was that pronghorn were common near water in the northeastern part of New Mexico (Bailey,V. 1932). Even though total numbers were never estimated in the days of exploration in New Mexico, most anecdotal evidence shows that pronghorn were numerous but declining. The decline has been linked to several factors including market hunting and habitat alterations. In 1916, Aldo Leopold estimated that there were approximately 1,740 pronghorn in the State. According to the FY 2015 Annual Report, New Mexico Department of Game and Fish estimated between 40,000 and 45,000 pronghorn in the state. This is just one of the big game population success stories in New Mexico.
Pronghorn are one of the fastest land animals in the US and is possibly the best known characteristic of this species. Reaching speeds up to 70 MPH is one of only many adaptations this animal has for life on the open planes. Another is its ability to go for long periods without drinking water. It has evolved to conserve water involved in its metabolic functions.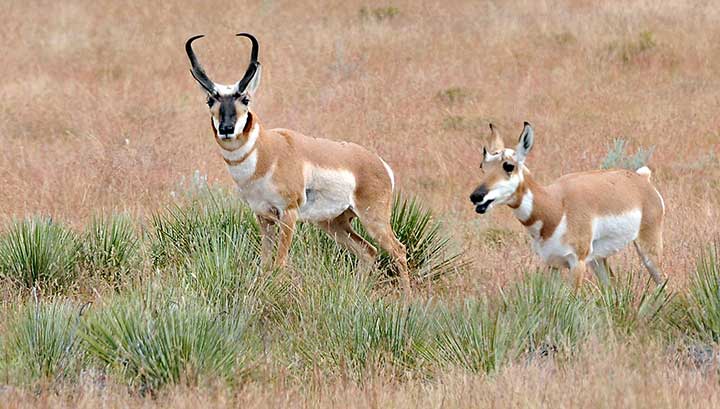 One of the lesser known characteristics of Pronghorn, and one that is a critical part of its management, is its aversion to jumping fences. While quite capable of jumping high enough to clear most livestock fences, this species prefers to go under or through fences rather than over. Due to many historic fence designs using net wire or multiple strand fences, the pronghorn's ability to move across the prairies following the green up that occurs following rainstorms has been curtailed.
Contrary to much popular thought, Pronghorn don't rely primarily on grasses for their diet needs. Forbs make up the vast majority of their diet followed by browse species and only a small portion of the diet being made up of grasses. This makes the species compatible with most cattle operations on well managed range.
Sexual maturity in pronghorn is reached at approximately 1 year old. Unlike deer and elk, male pronghorn will reach their peak horn development at approximately 3 years old. This rapid horn maturation makes management of the species somewhat easier due to the ability to maintain adequate sex ratios and population age structures while allowing sport hunting.
Below are two links with good information regarding pronghorn antelope.
Bailey,V. 1932. Mammals of New Mexico. United States Department of Agriculture Bureau of Biological Survey. North American Fauna, No. 53. Washington, D.C., USA.
Hunting of pronghorn in New Mexico takes place on both public and private lands. Different rules apply for public vs. private land licenses. The information below is a quick synopsis of those rules. For full information on pronghorn hunting, please see the full pronghorn rule and for public land hunting, please see the Rules and Information Book.
Pronghorn hunting on private land only, is available through the purchase of an over-the-counter pronghorn license. Private-land pronghorn licenses are valid only on a landowner's private deeded acreage when accompanied with written permission from the landowner. Over-the-counter  private-land licenses are NOT valid on public land.
Public hunts for pronghorn will be administered by the Department through the public draw hunt process. Hunters drawn for a public land draw hunt will be issued a license that is valid on any legally accessible public land in the specified GMU during the assigned hunt dates, any private land with written permission from the landowner and on any property signed up in a Ranch-Wide Agreement or portions of properties included in a Unitization Agreement. A hunter may not possess a draw license and a private-land license for pronghorn in the same license year.
It is the public land hunters responsibility to assure they are hunting only on public land and not trespassing. Several map applications are available for GPS units and smart phones that will assist with this.