New Mexico Department of Game and Fish
Public contact, Information Center: (888) 248-6866
Media contact: Karl Moffatt: (505) 476-8007
karl.moffatt@state.nm.us
FOR IMMEDIATE RELEASE, March 16, 2016:
New Mexico game warden recognized as Officer of the Year by Shikar Safari Club International Curtis Coburn
SANTA FE
– Shikar Safari Club International has named New Mexico Department of Game and Fish Corporal Curtis Coburn the 2015 New Mexico Wildlife Conservation Officer of the Year.
Coburn received the award at the department's second annual Governor's Special Hunt Auction and Award Banquet on Feb. 20 in Albuquerque. Coburn, 35, currently is stationed in Ruidoso. He is a 12-year veteran of the department and holds a bachelor's degree in Forest/Wildlife Management from Western New Mexico University in Silver City.
Shikar Safari Club International annually presents awards to wildlife law enforcement officers in all 50 states and 10 Canadian provinces and territories. The club is dedicated to the protection, enhancement and preservation of wildlife, with particular emphasis on endangered and threatened species through the promotion of enforcement of conservation laws and regulations.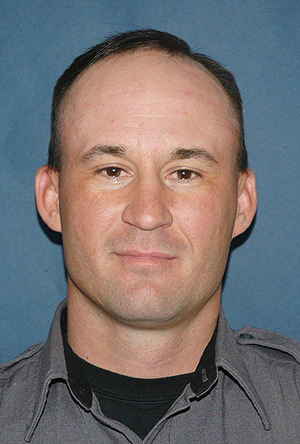 Coburn was lauded for his work with ranchers and land management agencies in modifying fences to allow pronghorn antelope to freely roam across a 28-mile area on the plains northeast of Capitan. His wildlife habitat improvement work to benefit mule deer within the Lincoln National Forest was also noted.
Coburn also has been named the 2015 Officer of the Year by the National Wild Turkey Federation.
###