New Mexico Department of Game and Fish
Public contact: Information Center (888) 248-6866
Media contact: Karl Moffatt, (505) 476-8007
karl.moffatt@state.nm.us
FOR IMMEDIATE RELEASE, March 11, 2016:
New wildlife license plate features a big buck big buck license plate
SANTA FE
– A new Share with Wildlife program license plate available to the public features a big mule deer sporting an impressive set of antlers.
"Hunters and wildlife enthusiasts will love this new license plate," said Ginny Seamster, program coordinator for the New Mexico Department of Game and Fish. "And it's all for a good cause, conserving wildlife."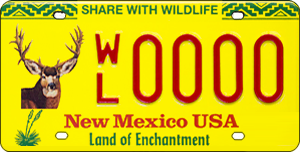 Since 1981 the Share with Wildlife program has funded wildlife research, habitat enhancement, education and rehabilitation projects around the state. Many of those projects benefit nongame species in need of conservation.
The program is reliant upon donations, including the purchase of a special license plate from the state Motor Vehicle Division (MVD). Initial cost for the plate is $27 with $15 going to the Share with Wildlife Program. A subsequent $12 annual plate renewal cost also goes to the program. To order the new plate, please visit the department's website at www.wildlife.state.nm.us/conservation/share-with-wildlife/ to download the order form. The license plate also can be purchased at some MVD offices but call first to make sure it's in stock.
Donations also can be made to the program by earmarking a portion of your state income tax refund. Just check off the box on your income tax form. Donors also can make a contribution through the department's website at www.wildlife.state.nm.us/share. All donations fund projects, not program administration.
For more information about the program, contact Ginny Seamster at (505) 476-8111 or virginia.seamster@state.nm.us.
###