Mentored-Youth Hunting Program
Becoming a Mentored-Youth Hunter is simple.
First-time hunters at least 10 years of age—but younger than 18 years of age—can pass an online quiz and receive a Mentored-Youth Hunter number. This number enables a Mentored-Youth Hunter to hunt under the supervision of an adult mentor, purchase a Game-hunting License or Game-hunting & Fishing License, and apply for or purchase hunting licenses for the following species: deer, turkey, javelina and small game.
Mentors can be either a parent, guardian or an adult with parental consent, must be 18 years of age or older and must possess a valid hunting license. At all times while hunting, the Mentored- Youth Hunter and mentor must be in unaided sight and audible distance from one another.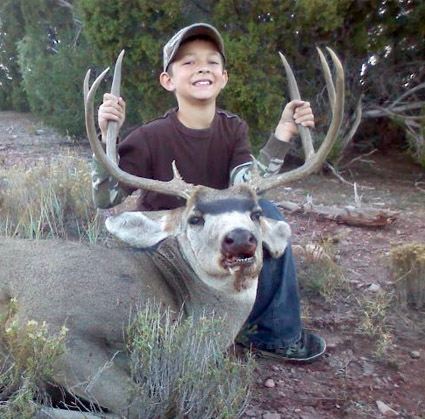 Participation is a one-time opportunity and good for two consecutive license years. When the Mentored-Youth Hunter has completed the program and successfully passed the New Mexico Hunter Education course, he or she can hunt any legal species independently with no age restriction.
How to Become a Mentored-Youth Hunter
First, each youth will need a Customer Identification Number (CIN). CINs are available free from the New Mexico Department of Game and Fish (NMDGF). Click Here to enter the required information to create your account. Interested youth can also set up an account at any NMDGF office.
Once the CIN account is created, the applicant must pass an online quiz to receive a Mentored-Youth Hunter registration number. Simple to follow instructions are available online. Click Here to take the New Mexico Mentored-Youth Hunter Quiz.
The Department remains committed to our customers. However, as a result of Covid-19, technology systems and customer support response times to our online course providers may be delayed. Your continued patience is appreciated.
Mentored-Youth Hunter Quiz
It's simple. The quiz is 25 multiple-choice questions about firearms, ammunition, hunter safety, shooting fundamentals, survival, wildlife identification, game care, laws and regulations. A passing grade of 80% is required, and if necessary the quiz can be retaken until passed.
A free study guide is also available online: https://www.hunter-ed.com/newmexico/studyGuide/20103303/
Registration Good for Two License Years
Once registered, Mentored-Youth Hunters may hunt with a mentor for two consecutive license years. Before the registration expires, MentoredYouth Hunters are required to complete the Hunter Education Course, after which they can hunt any legal species independently with no age restriction. Each youth may register for the Mentored-Youth Program once only.
For information, telephone toll-free: 1-888-248-6866.