New Mexico Trout Challenge
To promote trout fishing opportunities in New Mexico and encourage anglers to branch out and discover new fishing waters and trout species, anglers can now participate in the New Mexico Trout Challenge.
Still thinking about trying the Trout Challenge?
Check out some of the pictures we have already received from anglers participating so far.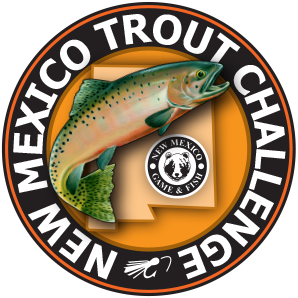 New Mexico is a state where the Rocky Mountains meet the desert. New Mexico is also a state that is rich in diversity from its many different climates to the fish and wildlife. Sportsmen and women of New Mexico are very fortunate to have such a diverse fishing opportunity, especially when it comes to trout.
New Mexico's winter trout stocking program allows anglers across the state the opportunity to catch a trout in places that might not have them on a regular basis due to weather and water conditions. The best part about trout fishing in New Mexico, is that anglers have the opportunity to catch trout from one end of the state to the other whether stream or lake.
Find out more about the Trout Challenge by listening to Northwest Regional Public Information Specialist, Ross Morgan, in a January 2020 radio interview requested by 98.3 KXDJ in the Texas Panhandle.
Catch 5 trout (Rio Grande Cutthroat, Gila, Brown, Brook and Rainbow Trout) within New Mexico lakes & streams. Anglers who complete the challenge in New Mexico waters receive special awards & appear on this page.
The New Mexico Department of Game and Fish has partnered with Powderhook to allow anglers to record and share their catches for the New Mexico Trout Challenge. Upon completing the challenge, the Department will be notified and you will be sent a New Mexico Trout Challenge coin, sticker, certificate of completion and you will be listed in the Trout Challenge Hall of Fame.
Installation: Search for "Powerderhook" in the App Store or click the icon below. Download the Powderhook application.
No fee or registration. No time limit.
Open to residents & non-residents.
Catch & Release encouraged.
Excludes Class A and privately stocked water.
No catch before 1-1-2020 allowed.
Only one (1) trout species per entry.
New submission required each new catch.
No limit to challenge completion per year.
Have a Customer Identification Number (CIN).
Have a valid New Mexico fishing license and abide by fishing rules and regulations.***
Download free Powderhook app, or contact 888-248-6866 for paper submissions.
Submission must include angler's:

Full name, phone, email, mail address.
Current NM fishing license number.***
Customer Identification Number (CIN).
Date, catch, county, and body of water.
Catch photo. Photo becomes property of NMDGF for promotional media.

Must check completion box on final submission.
Upon verification, angler receives:

Certification of achievement
New Mexico Trout Challenge coin & sticker
Addition to Trout Challenge hall of fame
*** Licenses not required for anglers 11 or younger.
Official Rules (PDF)